For those of you that have been following us at Three Elements Timberworks, you may recall that we donated a timber frame pavilion in 2012 to the the Colorado Therapeutic Riding Center (CTRC).   We didn't do it alone — not by a long shot. We had a long list of people and companies that helped. You can read about many of them here. It is by no means a complete list, and in the future I plan to do a better job of going back and acknowledging those that helped us build it and that help us take care of it. In that spirit, I would like to thank the Meade Mavericks football team.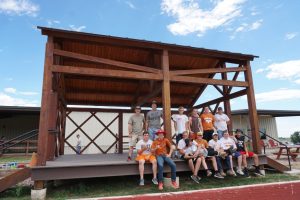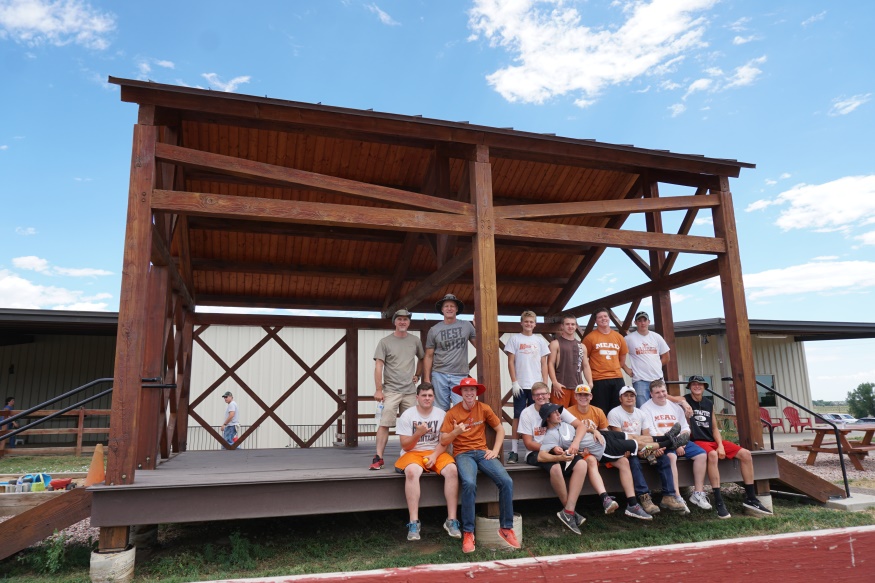 I received a phone call from Carol Heiden, the executive director of CTRC, several weeks ago asking if I could supervise a group of high schoolers that were volunteering to do projects around CTRC. I told her that I would be glad to, and we decided that my project would be to stain the pavilion. It was last done about two years ago and was ready for another coat.
CTRC is an amazing place. Every time I go there I am moved by someone. I remember one Saturday I was working in the office trying to get the books closed out, and our bank's online banking web page was down. I was so frustrated as I had planned to get the work done and wasn't able to. I remember having a "Why doesn't anything ever go right for me?" moment.  But then I jumped up from my desk and said, "I will go out to CTRC and get some work done!" (I was in the middle of laying down the Trex decking)..  I left the office and drove over to CTRC, got out my tools and started laying down the Trex decking over the joists. There was no roof on yet. It was hot. I was sweating. That's OK — I would persevere through the hardship.
There is a path that goes between the main building at CTRC and the admin offices. The path goes right by the then-not-finished pavilion. As I was working on the decking, I looked up, and as sweat dripped down my forehead and stung my eyes, I noticed a young girl, maybe 5 or 6, walking down the path by herself. She had crutches.  She was obviously a rider at CTRC, so this was nothing unusual to see there. I continued to work with my head down fastening the decking, and when I looked up again several minutes later and the young girl was still walking. A walk that would have taken most of us maybe a minute was a journey for this girl, yet she trudged forward one step at a time. My heart sank, not for her, but for me. I felt pathetic. I had pitied myself because my online banking wouldn't work. I had patted myself on the back for overcoming it, but now I was humbled by the strength, persistence and drive of a young girl.
If there is ever a time in your life you want to meet amazing people, people who will humble you, people who will inspire you, go to CTRC and just "hang out". It took me a long time to build the pavilion: weekends, weekdays, mornings and evenings.  At one point, the executive director, Carol, thanked me for the pavilion. For some reason she doesn't believe me when I tell her, "I got much more out of being at CTRC working on the pavilion than I put in," but it's true. I once read that the first law of thermodynamics says something to the effect of: You cannot get more energy out of a system than the energy you put in. That is not true at CTRC. No matter how much you give, you always get back more.
So I want to get back to the Meade Mavericks' Football team. They did a great job working to get the pavilion stained. My hat is off to the coaches and parents that are instilling the spirit of helping others. I hope that they will continue to do so on their own. I am not saying you have to dedicate your entire existence to helping others. I certainly don't do that. There are those that do, and they are amazing. But if you can just make your little piece of the world be better, that is a start. Go find your "CTRC". You won't regret it.
[easingslider id="2144″]