This project profile is from way back in 2008. It was a handcut project.
Project Location: Steamboat Springs
Builder: MEO Construction
Architect: Mountain Architecture and Design Group
Timber Frame Structural Engineer: Hammerbeam Engineering
Here is a quick look at the 3d model:
Here are the shop drawings.
We also created a rendered 3D image to show the architects, builder and home-owners.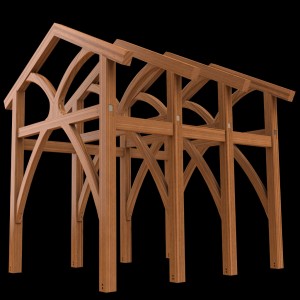 We assembled the timber bents in our yard to make sure everything fit. We had to take them apart in order to ship them to the job site.
Here are some final photos.